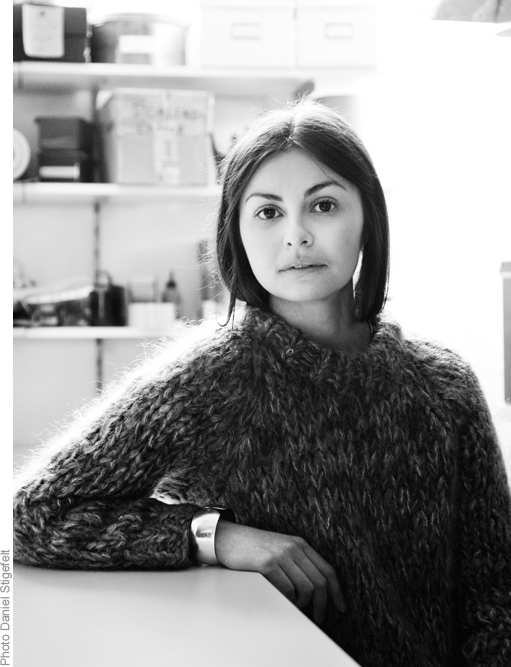 As a child, Noemi Ivanova dreamt of becoming an interior designer. Raised in a family where her father is an artisan and her mother has a strong passion for knitting and sewing, she early discovered her interest in handicraft. Thus, working with her hands and creating things are Noemi's biggest motivations for everything she does.
Her dreams of interior design were put on the shelf after an internship at an interior design company, where Noemi realized that most jobs concerned office environments and public spaces.
Instead, she started making lingerie. Founding her own label, Made by Noemi, in 2004 with the vision of combining fashion, function and style into lingerie. She wanted to give women an alternative to all the push-up-bras and g-strings that were the norm at that time in Sweden.
The inspiration and the way of thinking behind her work still originates from interior design, and in her home the interior design magazines receive most of her love for magazines. The constant interaction between function and style when it comes to furniture and interior design is what motivates her and inspires her to create lingerie that follows the same line. Everything that is beautiful also has to be functional and possible to enjoy in daily life.
The designer Noemi Ivanova, with roots in both Russia and Chile, lives in Stockholm, Sweden.
Welcome to her world of everyday luxury. ■
Why lingerie?
A week consists of seven days and, usually, only two of them are days off work. Hence it's hardly those all-to-short weekends that are tough to get through, but those grey, boring, full-of-things-that-must-be-done Tuesdays I want to create garments for these days and moods.
---
My belief is that a person that feels comfortable radiates beauty and lingerie is the foundation on which everything else is built. Everyday luxury is no longer a bonus, it's a given fact.
---
We all have that perfect outfit that we love, which, in some magical way, always makes us feel wonderful when have no idea what to wear. This feeling fascinates me and I try to recreate it with the pieces I create for Made by Noemi.
This is why the styles are the same each season, but with differing materials and details.
The MbN woman
The Made by Noemi woman is cool, determined and knows what she's after. She has authority combined with charm which makes her beautiful. In her world lingerie should just be there, as she has neither the time nor the energy to adapt her lifestyle to them.
---
They should remain where she originally put them on and not have a life of their own whether she's in an all-day meeting or just slouching on a slow Sunday.
---
And if you agree with the above describtion – then I guess you are a MbN woman too. Because with Made by Noemi lingerie you can pick which ever one piece from your closet, but it will be equally perfect every time.
That is everyday luxury to me.